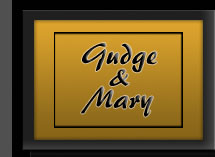 Favourites

Eventually this will be a gallery of our favourite shots, for now it's just our SmugMug gallery

Anilao
May 2010

Crystal Blue Resort, Anilao

Puerto Galera
May 2010

El Galleon Resort, Puerto Galera

Lembeh
November 2009

Kunkungan Bay Resort, Sulawesi

Wakatobi
October 2008

Wakatobi Resort, South East Sulawesi
Bunaken/Lembeh
September 2007

Bunaken Marine Park and Lembeh Strait, Sulawesi

Welcome to Ross and Mary Gudgeon's Website

Ross (aka Gudge) and Mary met and started diving together in 1984 and married two years later. Along with their dog Digger, they now live in Exmouth, Western Australia and dive regularly on Ningaloo Reef


In Australia Gudge and Mary have dived the south coast of New South Wales, Melbourne & Perth areas, Great Barrier Reef, Coral Sea, Cocos (Keeling) Islands and of course Ningaloo Reef.

Overseas dive trips have included Fiji, Vanuatu, Hawaii, Solomon Islands, Mexico, Honduras, Philippines, Indonesia, Malaysia and the Maldives.

Their favourite overseas destination is Indonesia with trips to Bali (5), Lombok, Bunaken (3), Lembeh (3) and Wakatobi.